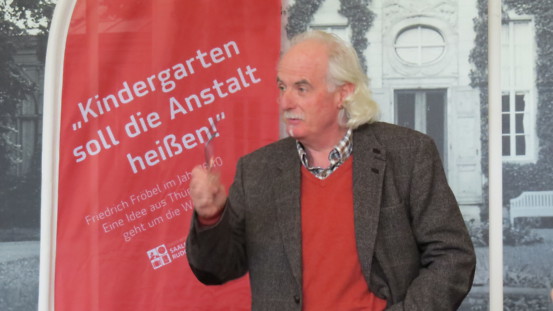 "The facility shall be named Kindergarten"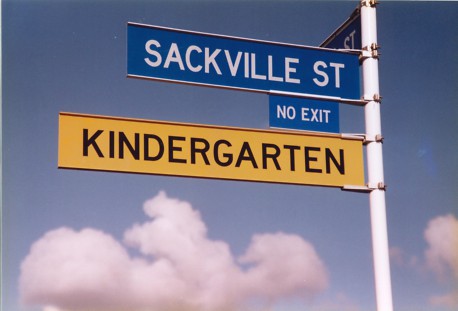 Fröbel's Ideas about childhood have spread around the world: here a signpost in New Zealand
Fröbel's Ideas in Germany and the World
Friedrich Fröbel's most popular idea – kindergarten – did not have a happy fate in the first years of its existence. Financial difficulties and political ignorance on the side of the government made the path towards the establishment of this unique educational establishment difficult. However, the 1848 revolution saw widespread approval of the concept of kindergarten, and in the years 1848–1851, kindergarten teachers were instructed in its philosophy. Fröbel was at the peak of his powers. Then on August 23, 1851, the Preußischer Staats-Anzeiger (Prussian government newspaper) published a ministerial decree, which banned kindergarten in Prussia under the pretext of atheism and socialism.
While the move was a step backwards for Prussia, the ban was a triumph for kindergarten internationally. After the prohibition, Fröbel's students travelled to many countries around the world, spreading his ideas. Fröbel's invented word "kindergarten" became an everyday term in a variety of languages. In 1860, the Prussian government was forced to retract its ban on kindergarten.
At the beginning of the 1990s in Germany, for a second time kindergarten was again threatened by political parameters. In the course of the restructuring of the school system after the reunification of Germany in 1989, the philosophy of kindergarten was considered to be part of the "communist" thinking of the GDR. While today the term "kindergarten" is known throughout the world, in Germany the concept is known as KiTa in common speech.
The international impact and appreciation of Fröbel's legacy in society and in the kindergarten realm is the theme of the Fröbel Decade in 2020. International institutions, projects and debates around Fröbel will be presented, and the term "kindergarten" brought to the fore of public consciousness.