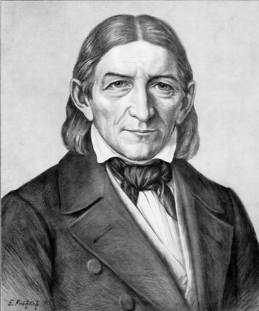 Fröbel and Politics
Fröbel was a political person, acting on and pondering the issues of his day. His concept of man, depicted in his pedagogic philosophy, was a prompt to independent thinking.
Changes to the political framework in the German Federation at first benefitted Fröbel's work and then later proved a restriction. His ideas regarding childhood were caught up in the updraft of the March Revolution of 1848/49, with kindergarten supported as the first step of a united civilian-democratic education system. With the new Prussian political orientation from 1851 and the accompanying prohibition on kindergarten, Fröbel initially lost support for his ideas in Germany.
Since the first constitutional establishment of democracy as a basic right in 1848, the understanding of democracy in Germany has been subjected to a steady process of development. Political actions remain, today as well as in the past, associated with an exalted responsibility for society.
In 2018 – 170 years after the adoption of the fundamental right to democracy in Germany – the themed year for the Fröbel Decade is "Fröbel and Politics". With special attention on Fröbel's educational aim – self-determined, independent people in harmony with nature, humanity and God – focus will be critically turned to the politics and democracy of today. Questions will be asked of the influence of politics on the individual, the influence of the individual on politics, and the responsibility of both for society at large.