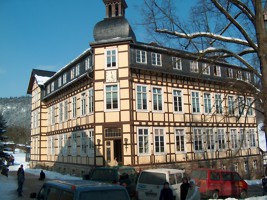 In 1817, Friedrich Fröbel moved his "General German Education Institute" from its original site in Griesheim to the small village of Keilhau. The former farmhouse was expanded over the following decades to house a range of classrooms and dormitories. Until 1939, students from around Germany attended the school, which followed an indepedent curriculum based around democratic principles.
Today, students continue to be taught following Fröbel's principles. The Free Fröbel School is the only school in the world to have been directly founded by Friedrich Fröbel and his colleague, Wilhelm Middendorf.
The Free Fröbel School also accommodates the Fröbel Archive, which includes the Fröbel Museum, a historic library, a rock and mineral collection, and a new school library, all of which are open to the public by prior arrangement. The archive is a valuable and unique collection, documenting nearly two hundred years of Thuringia's school culture.
The entire school complex with museum and memorials is protected by heritage listing.
Contact:
Freie Fröbelschule Keilhau
Robert-Birkner-Str. 17-27
07407 Keilhau
Telephone: 03672 312839
Fax: 03672 469610
To Website