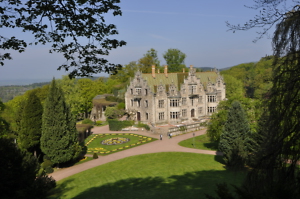 Altenstein, which belongs to the municipality of Bad Liebenstein, is the former domain of the knights of the Hundte von Wenkheim family and the summer residence of the ducal house Sachsen-Meiningen. The Luther Trail passes through the landscaped garden, and even Bonifatius, one of the most important church refomers in Germany, is said to have preached at Altenstein.
On August 4, 1850, Friedrich Fröbel organised a large children's festival in the palace park, sponsored and supported by the Meiningen ducal house. Fröbel is not only the father of kindergarten, he is also the originator of festivals for children. Through celebration, Fröbel aimed to promote understanding, the unity of humanity and the importance of a life led in harmony with nature. Original documents regarding the first children's festival can be viewed at froebelweb.
In the years 1927, 1996 and 2014, new children's festivals took place at Altenstein. In the future, the city of Liebenstein plans to hold similar events within the framework of the Fröbel Festival.
The Altenstein Palace, which was built to an English style of architecture, features a number of attractions for tourists, including a landscaped park, Chinese tea-house, the "Morning Gateway" or "Morgentor", the Luisenthal Waterfall, the Devil's Bridge and the Altenstein Cave. Information regarding the house and further tourist attractions in the region can be found in the exhibition rooms in the palace.
Contact:
Schloss Altenstein
Förderverein Altenstein Glücksbrunn e.V.
Altenstein 4
36448 Bad Liebenstein
Telephone: 036961 33401
Fax: 036961 69527
To Website
Opening Times:
May to October, daily from 11am-4.30pm
November to April, daily from 11am-4pm
Further information about the Altenstein Palace as well as Fröbel's connection to the site can be found on the websites: froebelweb and thueringen.info.