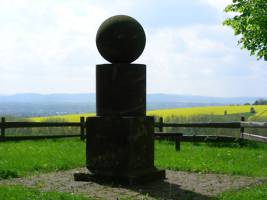 "Fröbel's Rest" colloquially refers to the area where Friedrich Fröbel enjoyed the wonderful view over the Werratal, either alone or with friends, during his time in Bad Liebenstein.
Today, the site is adorned by Fröbel's original gravestone, which was created to the design of Wilhelm Middendorf by Ernst Luther – a descendant of the family of Martin Luther and a former student of Fröbel's. Luther created the gravestone in memorial of his teacher and great friend. The shapes shown on the stone – the sphere, cylinder and cube – are today recognised worldwide as symbols of Fröbel.
"Fröbel's Rest" is a stage destination of the circular hiking trail "Following in the Footsteps of Friedrich Fröbel In and Around Bad Liebenstein". Further information about the hiking trail, including a map in PDF format, can be found on the Fröbel Trails site.