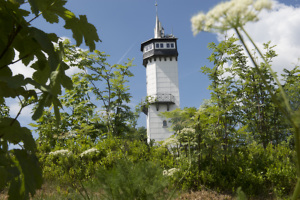 The Fröbel Tower in Oberweißbach (785 m above sea level) was built in 1890 in memorial of Friedrich Fröbel and is now the symbol of the village.
During the laying of the foundation stone on April 21, 1888, the chairman of the Oberweißbach Forest Association, Richard Trautner, spoke the following words:
"On this foundation stone, may a symbol of gratitude for Friedrich Fröbel arise, as evidence of Oberweißbach's love for home and nature, and may the tower be a hiking destination from which to survey the majority of the beautiful and fair land of Thuringia."
Hikers to this beloved day-trip destination are rewarded with a beautiful panoramic view from the tower's viewing platform over Thuringia's mountain ranges. Children can also enjoy the large forest playground which has been designed following Fröbel's ideas. The Fröbel Tower features a restaurant offering inviting refreshments.
Contact
Berggasthaus Fröbelturm
Inh. Manuela Arnoldt
Auf dem Kirchberg
98744 Oberweißbach
Telephone: 036705 62074
Fax: 036705 63134
E-Mail info@bergbahnregion.com

Opening Times:
May to September
Monday - Friday: 10am-6pm
Tuesday - Closed
Saturday, Sunday: 10am-6pm

October to April
Monday - Friday: 11am-5pm
Tuesday - Closed
Saturday, Sunday: 10am-6pm