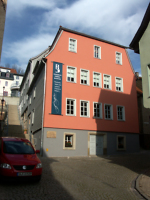 Friedrich Fröbel Museum, Bad Blankenburg
The Friedrich Fröbel Museum, open since 1982, explains the beginnings of early childhood education and the concept of kindergarten in an authentic setting. The museum is located in the "House over the Cellar" ("Haus über dem Keller"), which was given to Friedrich Fröbel in 1839 as recognition of his status as an honorary citizen of Bad Blankenburg. In the same year, Fröbel opened his "Play and Activity Institute" ("Spiel- und Beschäftigungsanstalt"), a facility that was in 1840 renamed simply "Kindergarten".
The museum's exhibitions illustrate the life of the founder of the first kindergarten and illuminate his early childhood education concept. The museum's highlights include a reconstruction of Fröbel's living room and study, the Fröbel Archive and a specialised library with more than 5,000 volumes of national and international literature. A unique drawcard is the playroom, in which children and adults can play together. Visitors are also able to attend age-appropriate tours and subject-specific presentations, play games with Fröbel's "gifts" and take lessons in folding, braiding, cutting, moulding and hole-pricking.
Contact:

Friedrich Fröbel Museum
Johannisgasse 4
07422 Bad Blankenburg
Telephone: 036741 2565
Fax: 036741 47311
E-Mail: froebelmuseum@web.de
To Website

Opening Times:
Tuesday – Saturday: 10am-5pm
Guided tours, seminars and museum educational activities available by prior booking.